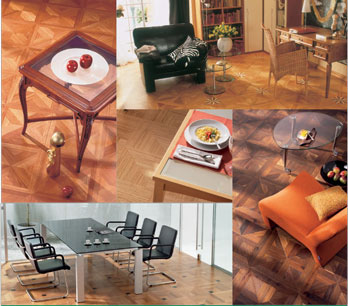 Cavinato S.p.A., in realizing this important project, has 2 aims:
Proposing a particular wood parquet with great effect,

oriented to a limited "niche" of customers, not following the passing fashion, with gorgeous handcrafts (it's totally hand-made by senior carpenters) evoking the "charme" and the prestige of the "fabulous old times".

Utilizing pre-finished parquet concept,

that means "ready-to-walk" just after finishing the laying. No dust, no fastidious smells in the room! It is factory lacquered, according to the ultimate technology standards; water lacquers are used (absolutely formaldehyde free following the ecologic rules of the collection it belongs to.
OLD STYLE program has been realized which completes the range of QUIK WOOD pre-finished parquet.

We wish to repeat again its main characteristic, i.e. to be hand-made,
assembling all the wooden pieces one by one, making manually the design,
something special in a world of industrial robots.
Possible small defects are just caused by the work of man, and not by the robot machine.
They have to be considered not as faults, but as witness and guarantee of precious handcraft-ship.
OLD STYLE: A WOOD PARQUET FOR MANY BUT... NOT FOR EVERYBODY!
Important - For your attention:
Real wood is a natural product, so it is always different in colour and in structure.
Two equal panels cannot exist, because the design and the structure may be different.
The colour of the wood in the catalogue can differ from the truth,
because of the effects of light and colour of the photographic yield.